PRODUCTS
Semi-rigid casting tape
USAGE:
SOFTNESS & RESILIENCY
Nemoa™ Flex remains semi-rigid and resilient, even in its cured state. Nemoa™ Flex provides semi-rigid support of the limb, while allowing some degree of joint movement. Nemoa™ Flex reverts to its cured shape after deformation. Nemoa™ Flex has soft, smooth edges.

CONFORMABILITY
Nemoa™ Flex is made from multi-directional stretch bandage, which conforms to body contours without folds or tucks, and enables easy application.

EASY TO UNROLL
Nemoa™ Flex is easy to unroll and control during application, which reduces application time.

TACK FREE
Additives in Nemoa™ Flex provide tack-free properties. Use disposable gloves during application.

HYGIENE
The porosity and moisture resistant properties of Nemoa™ Flex allow casts to 'breathe' and 'dry-out' easily, which decreases body odours and skin maceration under the cast.

EASY TO REMOVAL
Nemoa™ Flex is easily removed by simply unwrapping the material or cutting the cast with a pair of bandage scissors.


SUGGESTED APPLICATIONS:
ORTHOPAEDICS
Functional immobilization where a limited amount of joint movement is permissible.(eg. Sprains, Ligament damage, Joint Strains and in cases of stable or minor Fractures)

SPORTS MEDICINE
Ideal for use by Athletes during training, as Nemoa™ Flex provides protection and support of vulnerable joints while allowing limited movement within the functional range. The 'softness' of the cast structure will limit injuries to other players.

SECONDARY CASTING
Recommended for use after primary fracture healing has occurred, as the flexible nature of a Nemoa™ Flex cast will decrease the joints stiffness, which results after rigid cast immobilization.

CAST BRACING
In conjunction with rigid immobilization of the fracture, Nemoa™ Flex can be used in Functional Cast Bracing to allow movement of the proximal joints.
INSTRUCTIONS FOR USE:
1. Apply stockinette to the relevant area. Apply padding to bony
prominences as desired.
2. Select appropriate size and colour of Nemoa™ Flex.
3. Disposable gloves should be worn when applying Nemoa™ Flex.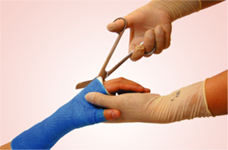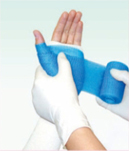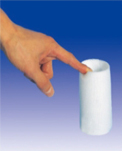 4. Open one roll at a time.
5. Immerse the Nemoa™ Flex bandage for a few seconds in room temperature water,
then squeeze 3~4 times.
6. Apply the bandage by wrapping spirally around the limb.
7. Setting will occur in approximately 3~5 minutes, with functional immobilization in 15minutes.
8. The number of layers used will determine the amount of support obtained, ie.
The greater the number of layers, the greater the cast resistance and corresponding
decreasein range of motion.
ORDER CADE:
| | | |
| --- | --- | --- |
| Code No. | Size | Rolls/Box |
| NSP-200 | 2inch * 4yds.(5.1*3.6m) | 10 rolls/Box |
| NSP-300 | 3inch * 4yds.(7.6*3.6m) | 10 rolls/Box |
| NSP-400 | 4inch * 4yds.(10.1*3.6m) | 10 rolls/Box |
| NSP-500 | 5inch * 4yds.(12.7*3.6m) | 10 rolls/Box |
*PRECAUTIONS:Cool, dry storage in 15~30° C is recommended. Storage at extreme temperatures will decrease the effective shelf life of the material